Written by Khushboo Narayan
, Rashmi Rajput
| Mumbai |
Published:October 9, 2016 4:40 am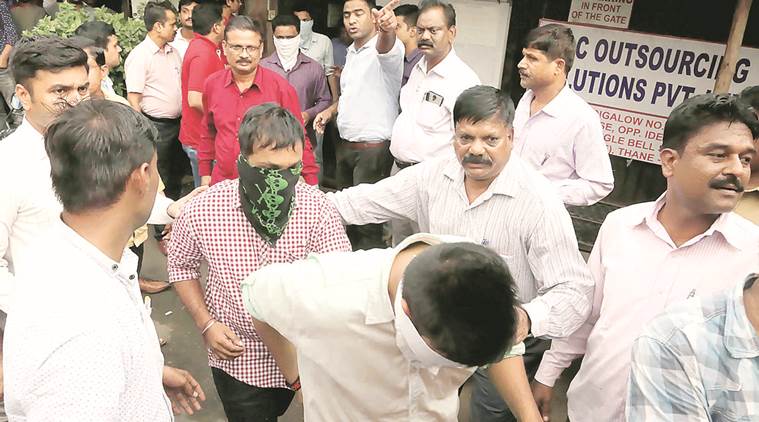 Thane police commissioner Param Bir Singh said victims in the US were threatened with tax investigation by call centre executives of these firms pretending to be officials from the IRS.
Financial records of a string of companies, being investigated by Thane police for running call centres that allegedly duped over 6,000 US citizens of at least Rs 500 crore, have uncovered shell companies with a capital of just Rs 1 lakh, and little disclosure or mandatory filings of financial and company-related details after incorporation.
The Thane police are investigating at least five firms — Iserve BPO Pvt Ltd, Lorex Impex Pvt Ltd, MAC Outsourcing Services, Tech Solutions and Call-Tech Solutions — behind the Internal Revenue Service (IRS) telephone impersonation scam through little known call centres from Mira Road in Thane district, official sources said.
A detailed look at the official filings of at least three companies— IServe BPO, Lorex Impex and MAC Outsourcing Services — accessed by The Sunday Express through the Registrar of Companies (RoC), reveals a common pattern of non-disclosure of statutory documents such as annual financial reports, profit and loss statements, and board resolutions of the firms since their incorporation in 2012. The three companies have a paid-up capital and authorised share capital of Rs 1 lakh each.
Under the Companies Act 2013, a company and its officials can be penalised with a fine of at least Rs 50,000 or imprisonment of up to six months for not filing the annual report with the RoC within 330 days of its annual general meeting.
Thane police commissioner Param Bir Singh said victims in the US were threatened with tax investigation by call centre executives of these firms pretending to be officials from the IRS.
To escape tax investigation, many Americans agreed to pay between $500 and $60,000 in gift cards and iTunes gift cards. The call centres were allegedly making Rs 1.5 crore daily in this manner for over a year. Police have now booked as many as 700 people associated with these calls centres on charges of cheating, extortion and impersonation under the Indian Penal Code and other relevant laws.
In July 2015, the Special Investigation Team (SIT) on black money recommended proactive mining of RoC company database by government's fraud office to weed out shell companies. This, after the SIT found shell companies were used to provide accommodation entries to launder black money in several high profile cases investigated in the recent past.
In the case of IServe BPO, while the firm was set up in September 2012, the directors were appointed on the board of the company only in June 22, 2015. IServe signed a three-year lease agreement to rent out a commercial space to run its call centre in Hari Om IT Park owned by the Hetal Group in Mira Road only in August 2016, according to documents reviewed by The Sunday Express. There is no mention about the business of Iserve between September 2012 and May 2015. A majority of the directors of Iserve have now been arrested by Thane police in connection with the call centre fraud.
On October 7, police also picked up Umesh Kothari, owner of Hari Om IT Park, the building leased out to IServe, for questioning. Iserve had agreed initially to pay Rs 1.7 lakh per month to Kothari from August 2016 to July 2017 and later increase it by 10 per cent every year until 2019, according to the lease agreement.
Kothari's office did not respond to phone calls. Kothari's brother-in-law Hemang Thakkar said Kothari had a legally valid lease agreement and had taken all payments from IServe through cheques. "My brother-in-law's business is all white. IServe occupied a floor in this building only in August after a valid lease agreement. They are the first occupants of this building," Thakkar said.
Calls made to a phone number given in IServe's RoC documents were answered by a person who said the number did not belong to the company.
In another case, the articles of association and the memorandum of association of Lorex Impex does not mention business process outsourcing as one of the business activities to be undertaken by the company. According to the filings, the company is engaged in the business of manufacturing electrical equipment.
One of the promoters of Lorex Impex, responding to queries, said "I had taken a basement on rent a few weeks back" and had "handed over the operations and handling of the centre" to an individual and was "not aware of what was going on in the centre".
Thane police have arrested Nasreen Bano Iqbal Balasaheb and her two sons, Nadeem Iqbal Balasaheb and Shain Iqbal Balasaheb, who are listed as owners of MAC Outsourcing Services Private Limited that ran the call centre Universal Outsourcing, allegedly involved in the IRS impersonation scam.
According to RoC filings, Nasreen Bano and her husband Mohammed Iqbal Balasaheb are also directors in two other Mira Road firms, Swift IT Resources Pvt Ltd and Epoch Outsourcing Pvt Ltd,. These two firms too have not filed their financials with the RoC since 2010.
Police suspect that all the call centres involved in the scam were controlled and operated by a mastermind who is still at large.
This is not the first time when call centres in India have been accused of perpetrating the IRS telephone impersonation scam. The US law enforcement agencies first unearthed the IRS impersonation scam in October 2013. Subsequently, in December 2013, they arrested Pennsylvania-based Sahil Patel, 36, for running an IRS telephone impersonation scam through multiple call centres in India.
The FBI and Treasury Inspector General for Tax Administration (TIGTA) found that Patel, the "ringleader" of the scam, had duped hundreds of people of over Rs 6 crore between 2011 and 2013. Like the Thane call centre fraud, Patel used VOIP technology to extort money from victims.
Since then, the TIGTA has only seen a rise in the IRS impersonation scam in the US with an average loss of more than $5,700 per taxpayer. "The Treasury Inspector General for Tax Administration, or TIGTA, has received reports of more than one million contacts since October 2013. TIGTA is also aware of more than 6,700 victims who have collectively reported over $38 million (Rs 253 crore) in financial losses as a result of tax scams," a July 2016 release of TIGTA stated.
In July last year, Patel was sentenced to more than 14 years in Manhattan Federal Prison and $1 million in forfeiture for his role in the fraud after he pleaded guilty before US District Judge Alvin Hellerstein, a statement released by the US Department of Justice said.
As a part of its consumer awareness and protection program, TIGTA released several alerts and YouTube videos explaining the modus operandi of IRS impersonators. But the Thane call centre raids revealed that these videos were instead helping the accused in perpetrating the fraud.
"To our surprise, the questionnaire and script prepared by the accused was by watching IRS official videos available on the internet," an official said.
Software industry experts and officials from enforcement agencies in the country feel that absence of regulations to monitor BPOs, high unemployment rate and slow conviction in criminal cases have together made India a hub for such activity.
"TIGTA is concerned that the recent arrests in India will not bring a total halt to the IRS telephone impersonation scams," said J Russell George, Treasury Inspector General for Tax Administration, in an email response to The Sunday Express. "Members of the public cannot and must not let their guard down," he added.
The Indian BPO industry had revenues of Rs 1.86 lakh crore in financial year 2016, according to Nasscom. It employs 1.1 million people exclusively for outsourcing business. India's share of the global BPO sourcing market is around 38 per cent.
But there is no specific law in India that regulates outsourcing transactions except in relation to telecommunication services. Most Indian BPO companies follow the global standards of certification. However, data privacy and integrity concerns related to outsourcing have emerged as the biggest concerns for the clients of Indian BPOs.
Nasscom is in talks with the government to set up a nodal agency to monitor, collate and disseminate information on international IT frauds involving Indian entities.
"This particular incident is not much of a BPO issue. We should not call them (Thane call centres) BPOs. These are companies run by criminals to commit fraud. Having said that, we have recognised the issue and are closely working with law enforcement agencies," R Chandrasekhar, president of Nasscom, said. "We are ready to provide whatever help possible to the police to get to the bottom of such cases. We are committed to make India safer," he said.