Stocks rebound as tech, defense firms climb
NEW YORK — Strong gains for technology companies like software and chip makers helped lead U.S. stocks higher Monday. Defense contractors also climbed as the market continued to bounce back from a bout of turbulence last week.
Stocks rose for the third day in a row. Technology companies are closing in on all-time highs and continued to rise Monday, led by big names like Cisco Systems and Qualcomm.
Aerospace and defense companies rose after President Donald Trump presided over a huge sale of military equipment to Saudi Arabia. Amazon led consumer-focused companies higher. Energy companies lagged even though oil prices continued their recent climb.
The S&P 500 index jumped 12.29 to close at 2,394.02. The Dow Jones industrial average added 89.99 to 20,894.83. The Nasdaq gained 49.91 to 6,133.62. The Russell 2000 index of smaller-company stocks picked up 9.81 to 1,377.14.
SC real estate agents subject to new law
COLUMBIA — People who sell or manage property in South Carolina will have to pass a background check to renew their license under a new law prompted by November's arrest of a real estate agent accused of killing seven people.
The law signed Friday requires real estate agents, brokers and property managers to undergo a fingerprint-based check every third license renewal, or every six years. The law takes effect in 2020.
Todd Kohlhepp was arrested after authorities said they found a woman chained in a storage container on his Spartanburg County property. He's accused of killing her boyfriend, another couple who disappeared in December and four people in a motorcycle shop in 2003.
A 2014 state law required first-time applicants to pass a background check. Kohlhepp received his license in 2006.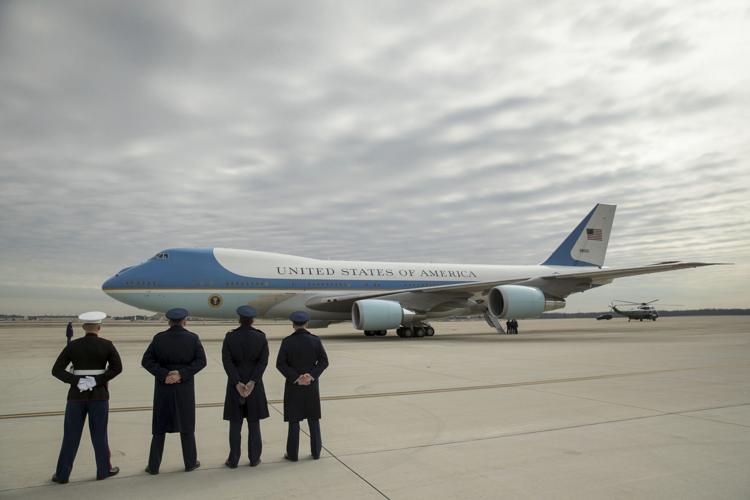 Boeing blamed for Air Force 1 errors
WASHINGTON — The Air Force is blaming Boeing mechanics for accidental contamination of the oxygen system aboard one of the modified Boeing 747 planes known as Air Force One used for presidential travel.
The plane was undergoing maintenance at a Boeing facility in San Antonio, Texas, when the mishap occurred in April 2016. No one was injured.
An Air Force accident investigation report released this month faulted three Boeing mechanics for using tools and parts that did not meet cleanliness standards while checking oxygen lines for leaks. The standards are meant to prevent a fire hazard. The mechanics also used an unauthorized cleaning procedure.
The report says Boeing has paid more than $4 million to clean or replace contaminated portions of the aircraft's oxygen system.
Facebook CEO: I'm not seeking office
NEWPORT, R.I. — Facebook CEO Mark Zuckerberg says his quest this year to visit every state he hadn't before is about building relationships, not politics.
The 33-year-old billionaire wrote in a Facebook post that some users have asked if the trip means he's running for public office. Zuckerberg says he's not running for anything. Instead, he says the visits around the country are in order "to get a broader perspective."
Zuckerberg made an unannounced stop in Charleston in March 11-12, when he attended a service at Emanuel AME Church.
Arconic says investor to add directors
NEW YORK — Elliott Management will add three members to the board at Arconic Inc., and one will have a say in naming the next CEO.
Elliott owns more than 13 percent in the company and has pushed for management changes, complaining of underperformance at the maker of aluminum parts for the aviation and automotive industries. Arconic was created after Alcoa Inc. was split in two last year.
As part of the agreement announced Monday, one of Elliott's board members will also be added to the CEO search committee. And Elliott's replacement choice —former Spirit AeroSystems CEO Larry Lawson — will be considered.
The former CEO at the metals company, Klaus Kleinfeld, resigned abruptly last month after he sent a letter containing veiled threats to Elliott founder Paul Singer. Arconic also said Monday that three of its own nominees will be added to the board, too.
Court rules on patent defense cases
WASHINGTON — The Supreme Court is making it easier for companies to defend themselves against patent infringement lawsuits.
The justices ruled unanimously on Monday that such lawsuits can be filed only in states where defendants are incorporated. The issue is important to many companies that complained about patent owners choosing more favorable courts in other parts of the country to file lawsuits.
The case involved an appeal from TC Heartland, an Indiana-based food sweetener company sued by Kraft Foods in Delaware. Lower courts refused to transfer the case to Indiana.
But the court's ruling will have the biggest impact on federal courts in eastern Texas, where more than 40 percent of patent lawsuits are now filed. Local rules there favor quick trials and juries tend to be more sympathetic to plaintiffs.
Cement maker LafargeHolcim names CEO
GENEVA — Cement maker LafargeHolcim says Jan Jenisch will become its new CEO following the departure of Eric Olsen amid fallout from its admission that it had struck deals with armed groups in Syria.
The world's largest cement maker, which has South Carolina operations in Georgetown, Holly Hill and Spartanburg, said Monday that Jenisch, the CEO of Swiss building materials company Sika, will take over Oct. 16.
Olsen announced his departure effective July 15 last month. He cited "strong tensions" facing the Swiss-French company following the admission in March that it had made deals with unspecified groups in Syria. An internal investigation concluded that Olsen was not responsible for or aware of any wrongdoing linked to now-discontinued Syria operations.
Nathan's hot dogs issues recall over metal concerns
CINCINNATI — The company that makes Nathan's and Curtis hot dogs is recalling more than 200,000 pounds of the products after getting complaints of metal found in the packages.
John Morrell and Co. said it had gotten three complaints and notified the federal government Friday. There have been no confirmed reports of injuries or adverse reactions from the products.
The recall applies to 14-oz sealed film packs labeled "Nathan's Skinless 8 Beef Franks" with a use-by date of Aug. 19, 2017, and to 16-oz sealed film packs labeled "Curtis Beef Master Beef Franks" with a use-by date of June 15, 2017.
The packages have "Est. 296" on the sides and were shipped to retail locations nationwide.
2 more chemical makers seek to mer
ge
GENEVA — Swiss specialty chemicals maker Clariant and Texas' Huntsman Corp. will attempt to join and create a company with a market value of $13.8 billion, the latest proposed deal in a chemicals industry that is seeking to consolidate rapidly.
The companies said Monday they plan to combine in through an all-stock transaction. The resulting company would be named HuntsmanClariant, with stock exchange listings in both Zurich and New York.
If approved, Clariant shareholders would own 52 percent of the company and Huntsman shareholders would own 48 percent.
The new firm will have global headquarters in Pratteln, Switzerland and operational headquarters in The Woodlands, Texas, where Huntsman is based. Clariant CEO Hariolf Kottmann is to become HuntsmanClariant's board chairman while Huntsman CEO Peter Huntsman would hold that position in the combined company.
The companies hope to complete the deal by the year's end.
U.S. looking into Hyundai, Kia recalls
DETROIT — The U.S. government is investigating whether Hyundai and Kia moved quickly enough to recall more than 1.6 million cars and SUVs because the engines can stall, increasing the risk of a crash.
The National Highway Traffic Safety Administration says it's looking into three recalls by the Korean brands. The agency also says it's investigating whether the automakers followed safety reporting requirements.
Hyundai recalled about 470,000 vehicles in September of 2015 because debris from manufacturing can restrict oil flow to connecting rod bearings. That can cause bearings in the four-cylinder engines to wear and fail. The repair was an engine block replacement.
Last March Hyundai and Kia issued two more recalls covering 1.2 million additional vehicles with the same engine problem.
The companies say they're cooperating with the investigation.
Citi settles claims over possible laundering
NEW YORK — Citigroup has agreed to pay nearly $100 million to federal authorities to settle claims that a lack of internal controls and negligence in the bank's Mexican subsidiary may have allowed customers to commit money laundering.
The Justice Department announced Monday that Citi's Banamex division will pay $97.44 million for violations of the Bank Secrecy Act. Citi did not admit any fault.
Federal authorities alleged that Banamex officials allowed more than 30 million remittances from the U.S. to Mexico worth roughly $8.8 billion. While Banamex's internal controls alerted the bank to 18,000 potentially suspicious transactions, Banamex investigated fewer than 10 of them.
Citi, which previously announced it was winding down Banamex's U.S. operations, entered what's known as a "non-prosecution agreement" with authorities.
Ga. utility regulators OK solar facility near base
ATLANTA — Georgia regulators have approved a solar power facility's construction near a military base in the state.
The Georgia Public Service Commission announced the decision this week.
The facility proposed by Georgia Power will be built just outside Robins Air Force Base in Warner Robins. The utility company is leasing the land and will operate the solar facility, providing power to the military base and other customers.
Georgia Power expects the facility to begin operating on Dec. 1, 2019 and says it will include more than 500,000 solar panels making it the company's largest solar project. Construction is expected to start in 2018.