The legal profession's dress code is a minefield of dos and don'ts – but does clothing etiquette really matter for law students?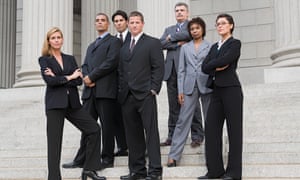 When Cambridge law graduate Keir Baker arrived for the first day of a vacation scheme in chinos and a shirt, he felt like he'd gone to a costume party in a chicken suit only to discover no one else had bothered to dress up. While all that was missing was a blazer, it turned out that the 22-year-old had made a fashion faux pas.
"I got told on the first day that what I was wearing was inappropriate," he says. "I was told it was smart casual but I didn't have a clue what that actually meant."
Why is clothing etiquette considered to be so important for success in law? Because the legal profession is a minefield of dress code dos and don'ts – from unbuttoning your jacket when sitting down to wearing the wrong suit to a client meeting – and failing to comply can leave you more than red-faced.
Trainee barristers at BPP law school in London have been told they will lose marks if they do not adopt the university's conservative dress code in their advocacy assessments. For example, the handbook warns students against wearing short skirts, colourful socks and "kinky boots".
Baker, who is studying his LPC at BPP, says: "They are trying to get people to realise that in life they are going to have to dress like this, so when you go for an assessment that involves role play then they expect you to dress as you would in a real-life professional scenario."
Nevertheless, the often unspoken expectations around dress codes seem to favour students from more privileged backgrounds. Baker, who went to a comprehensive in Newcastle, claims his public school educated peers were far more familiar with the rules on clothing for formal occasions and networking events because they had been exposed to that culture before university.
Baker says the only time he wore a suit was for a wedding, and it was a shock to be told he couldn't wear the same style to work. "Actually affording the clothes is difficult, but I think it's even harder for people who aren't used to dressing smartly to get into that mindset."
In a time when businesses appear to be embracing a trend for more casual clothes, why do strict formal dress codes persist in so many law firms? According to Jon-Paul Hanrahan, associate director of Douglas Scott Legal Recruitment, clients still expect lawyers to be suited and booted.
Any deviation from this could have a negative impact on job performance, particularly in the context of advocacy. "The idea is to keep everything as neutral as possible," Hanrahan says. "If you are representing a client in court, it's going to have an impact if you are wearing something that takes away from what you are saying."
Dressing smartly might also influence the wearer's behaviour. Studies suggest that wearing a suit can make you feel more confident and boost self-esteem. Professor Carolyn Mair, founder of Psychology for Fashion and author of The Psychology of Fashion, says dressing smartly can motivate you to work harder.
"Law is a profession where you have to follow the letter very carefully and it would be unwise to portray the image of a maverick," Mair says. "I think it's really important that whoever is working or hoping to work in the industry understands that."