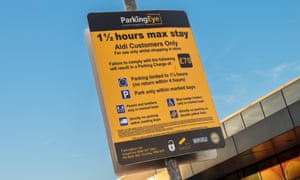 Driver's legal victory is one in the ParkingEye for rogue private firms

ParkingEye pays barrister £1,550 in costs over £85 fine issued as he napped in motorway services
A driver hit with an £85 fine after taking a night-time nap in a motorway services car park – and overstaying its two-hour parking limit – has had the fine overturned, and obtained £1,555 in costs awarded against the private parking company after it chose not to challenge a court award.
As first revealed by Guardian Money, ParkingEye pursued Nicholas Bowen for overstaying the free two-hour limit at Welcome Break's Membury services on the M4 and – when he wouldn't roll over – decided to sue him.
What ParkingEye did not know at the time it imposed the fine was that Nicholas Bowen is a senior QC and renowned barrister who has undertaken a raft of high-profile cases.
The controversial firm – which boasts that it wins 90% of its county court claims – was ordered to pay his costs of £1,555 when the judge struck out the case on 18 August after ParkingEye failed to turn up in court.
ParkingEye insisted afterwards that it did send a representative but was told that the case was not on the list of hearings. When Guardian Money later contacted the company, it told us it was still "considering its options within the time limits set out by the court".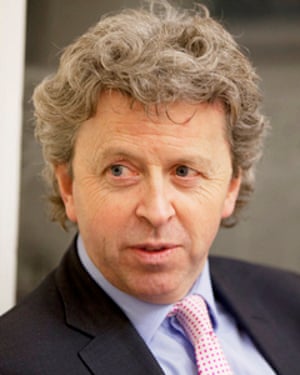 But the company has since sent a cheque for £1,555 to Bowen – though spelling his Christian name as Nickalas on the cheque and accompanying letter – both dated 1 September.
He shared his victory on Twitter, claiming ParkingEye "ran from the arguments and paid costs fearing a loss, they're vulnerable" and urging other motorists it has threatened with legal action to "keep up the pressure".
He has since emailed ParkingEye asking it to reissue the cheque in the correct name, while also asking for figures on the number of tickets it issues annually to people overstaying at night in motorway services car parks. He added: "Please indicate if you are prepared to engage with me in a sensible dialogue on the nighttime service station; if I do not hear from you I will continue to campaign against your current practices to help those who find themselves in a similar position to the one you put me in."
Bowen had argued that the firm had no right to charge people for parking to take a nap in a "virtually empty" car park. He said warnings about 24-hour charging were in tiny print in another part of the car park. He claimed that charging overstayers at night was a violation of consumer protection law.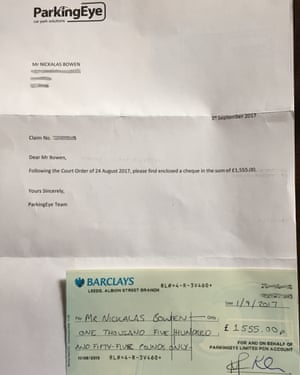 But ParkingEye pressed ahead with its plans to sue Bowen through the county court to recover its claim for the unpaid ticket, a further penalty for non-payment and costs. At that stage he decided to defend the case.
Bowen's case has received huge media attention as well as triggering hundreds of further complaints from motorists who claim they have been badly treated by ParkingEye and other private parking companies. They include a woman working for an animal rescue charity who parked in a coastal pay and display car park in emergency tidal conditions while trying to rescue a seal from the sea.
Contacted about the latest development in this case, ParkingEye said that it was reissuing the cheque to Bowen in the correct name.
The RAC and AA motoring groups are both backing Sir Greg Knight MP's private member's bill to tackle rogue private parking companies head on by introducing regulations to protect motorists. The parking (code of practice) bill 2017-18, which had its first reading in July and is likely to get its second reading early in 2018, aims to reform parking enforcement by introducing a legally binding code of practice, which could ultimately lead to a fairer appeals process and an end to aggressive debt management. Research from the RAC shows that 73% of drivers favour government regulation of the industry.
Knight said: "Following the ban on wheel clamping in 2012, private parking providers are now issuing a ticket every seven seconds – many of them in dubious circumstances.
"Some dodgy operators are engaging in practices including 'ghost ticketing' – the use of CCTV to spot parking infringements and issue parking charge notices, unclear and ambiguous signing and issuing tickets despite malfunctioning parking payment machines.
"Currently, there is no legally binding, mandatory code of practice."