Firms' gagging clauses could harm public interest, Labour warns

Tom Watson calls on PM to act firmly to prevent misuse of non-disclosure agreements by businesses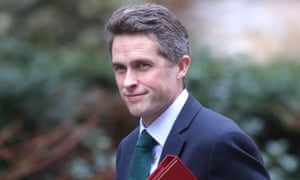 Labour has warned that gagging clauses imposed by businesses on departing staff could be used to inhibit discussion on issues in the public interest and called on Theresa May to act firmly to prevent their misuse. Last week Downing Street said that the prime minister was concerned about the use of non-disclosure agreements and said she would consider whether changes were needed.
But on Monday, amid concern that their use in standard employment contracts at some companies could inhibit former staff from disclosing workplace concerns, Labour's deputy leader, Tom Watson, said: "Gagging orders should not be used to inhibit the discussion of issues clearly in the public interest."
Watson was speaking amid fears that such orders were included in contracts at a fireplace firm where defence secretary Gavin Williamson worked and could be preventing staff from speaking about the circumstances of a relationship between Williamson and a colleague. Queries from the Guardian have established that some former staff signed non-disclosure agreements after leaving Elgin & Hall or its parent company Aga Foodservice Group.
One former executive who worked with Williamson said it was "standard" in the group for limitless gagging clauses to be written into compromise agreements. The same source said terms and conditions of employment contracts included clauses stopping the sharing of sensitive information for six years or more.
The defence secretary is under growing pressure to respond to unanswered questions after he disclosed a relationship with a junior colleague at Elgin & Hall in 2004.
Watson said it would be right if Aga let staff at the firm know they would not be sued if they spoke out. "Last week the prime minister's spokesperson said Theresa May will 'look into the way these non-disclosure agreements are applied' following the Presidents Club revelations," he said. "It would only be right if any non-disclosure agreements in this case that are applied to former and current members of staff are also looked at by the prime minister."
Williamson gave an interview to the Daily Mail about the relationship a few hours after his lawyers refused to answer a series of questions from the Guardian about his departure from the fireplace firm of which he was managing director in 2004. In the article, he said the relationship "became flirtatious and a couple of times we shared a kiss". He said he decided to leave the company to save his marriage to Joanne, a former schoolteacher.
However, a number of sources have suggested a more complicated story. In a series of exchanges that began on Thursday, Williamson's lawyers refused to say:
Whether the woman reported Williamson's behaviour to her line manager and an internal process followed;
what the outcome of that process was;
the terms on which he departed and whether he received a pay-off;
whether it was right for a managing director to engage in a relationship with a junior colleague;
why there appears to be no mention of his employment at Elgin & Hall in his official profile or social media.
A friend of Williamson's dismissed claims that the MP was sacked from his job at the fireplace firm after details of the affair became known, and insisted that there was no disciplinary process when he left. "He was offered the job of operations director to stay. There was no disciplinary process," the source told the Times. Williamson and Aga had not responded before publication.
Meanwhile on Monday, Williamson received a series of rebukes from former intelligence chiefs and diplomats at a hearing of a joint committee of MPs and peers looking into the national security review under way at present.
Although Williamson was never named, he was the target of criticism from Peter Ricketts, the former national security adviser, who rounded on him for last week removing the Ministry of Defence budget from the overall strategy review. Lord Ricketts described it as a "backward step". He said he understood the politics behind the move, but it undermined a coordinated approach towards security that involved the intelligence agencies as well as the MoD.
His view was echoed by others giving evidence to the committee. The former head of MI6, Sir John Sawers, was critical of Williamson for "loose" comments in December calling for Britons who fought for Islamic State to be hunted down and killed.
Sawers said some of the 800 or more Britons who went to Syria to join groups such as Isis might be terrorists, but others would lead normal lives. "I think it is important politicians don't put members of the armed forces or intelligence services in a position where they are expected to break the law. There are very clear laws governing military action.
"One of the essences of our system is we operate within the framework of the law. Yes, many of these people need to be brought to justice, but that does not mean a Wild West justice."
Conservative MP Julian Lewis, chair of the Commons defence committee, asked whether Williamson might have given away classified material in an interview with the Daily Telegraph on Friday in which he warned of thousands of casualties from a potential Russian cyber-attack.
Robert Hannigan, former director of the surveillance agency GCHQ, said the prospect of casualties from a cyber-attack seemed a "perfectly reasonable" thing to say and he did not think it constituted a leak of classified intelligence.