Written by
Ritu Sarin
| New Delhi |

Updated: August 26, 2016 7:18 am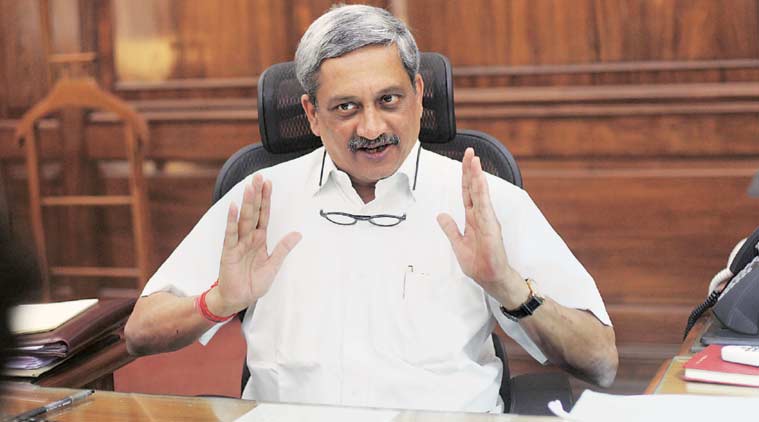 Defence Minister Manohar Parrikar.
DEFENCE Minister Manohar Parrikar has told The Indian Express that just a few days ago, he has cleared the final draft of the new defence blacklisting policy under which no company should face such an action without clear evidence of corruption or criminality.
His remarks came close on the heels of the Scorpene leak which French company DCNS says it is probing.
Read | Scorpene leak: Navy orders internal audit, contacts French govt
"Companies in future will not be indiscriminately blacklisted unless the charges against them are criminal in nature or they have committed a crime like stealing documents or paying a bribe. Even the fact that allegations against a defence supplier are being examined by the CBI will not be a reason for blacklisting since the CBI can take 10 years to examine and finalise a case. And at the end of it all, the CBI may find the case is not strong enough for conviction," said Parrikar.
Read | Scorpene submarine 'unclassified' documents stolen in 2011, not leaked: French govt source
The Minister said that fresh "guidelines" for blacklisting defence firms were in a brief policy document which was not even 10 pages long and had been sent by the MoD to the Ministry of Law for clearance. He added, "In it, we have listed various pre-blacklisting stages such as the imposition of fines and penalties which would have been stated either in the contract signed with the company or the integrity pact signed by them. Other conditions are also stipulated in the RFP (Request For Proposal). A violation of the integrity pact or the presence of an undisclosed consultant, for instance, could invoke a pre-fixed penalty but will not result in the company being blacklisted."
Watch video: Secret Data On India's Scorpene Submarines Leaked

He said he has been vetting all important defence contracts. "What I can say clearly is that nobody can influence my decisions and that is why, at least from the top echelons, I know the contracts we sign are clean. There is no element of mistrust. India always benefits from purchase of weapons and equipment in a multi-vendor situation and that is why, in the new policy, we have made clear criminality alone the basis for any future blacklisting. There is no point of putting deals on hold and slowing down defence procurement."