Nation
Posted at: Mar 13, 2018, 12:30 PM; last updated: Mar 13, 2018, 4:37 PM (IST)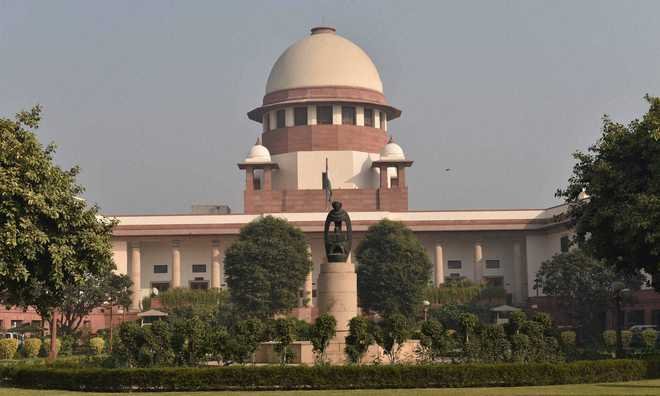 Satya Prakash
Tribune News Service
New Delhi, March 13
Foreign lawyers and law firms cannot open offices in India, the Supreme Court ruled on Tuesday.
A Bench of Justice AK Goel and Justice UU Lalit however allowed foreign lawyers to "fly in and fly out" to advise their clients on foreign law on a temporary and casual basis.
Earlier, the Madras High Court had in its 2012 verdict allowed the concept of "fly in and fly out" with regard to foreign lawyers and law firms. But it was challenged before the top court.
The apex court also permitted foreign lawyers to appear in international commercial arbitration subject to relevant rules applicable and directed Bar Council of India and the Centre to frame rules for the purpose.
BCI—which regulates legal profession in the country—had on January 10 told the Supreme Court that foreign lawyers and law firms can't be allowed to practise in the country unless they subjected themselves to Indian regulations. 
On behalf of the BCI, senior Advocate CU Singh had attacked the Madras High Court's verdict. While holding that foreign lawyers or law firms could not practise law in India either on the litigation or non-litigation side unless they fulfilled conditions of the Advocates Act, 1961 and BCI Rules, the Madras High Court had said there was no bar on them either in the Advocates Act or the BCI Rules to visit India for a temporary period on a "fly in, fly out" basis, for giving legal advice on foreign law to their clients in India.
The Madras High Court had also held foreign lawyers could not be debarred from coming to India and conducting arbitration proceedings in disputes involving international commercial arbitration.
However, BCI had contended the exceptions carved out by the Madras High Court went against Section 29 of the Advocates Act, which defined "practice the profession of law". "Fly in and fly out goes against 29 of the Act," the BCI said.
The BCI has been demanding reciprocity with the countries that want their lawyers to be allowed law practice in India.
BCI had drawn the top court's attention to the 2009 judgment of the Bombay High Court, which held that the RBI was not right in allowing foreign law firms to open liaison offices in India. Foreign law firms could carry on their liaison activities in India only in accordance with the Advocates Act, it had said.
The central government had said that either the BCI should frame rules or the government could exercise its powers under the Act.
Contending that "Fly in, fly out" by foreign lawyers didn't amount to "practice", senior advocate Arvind Datar on in January told the Supreme Court they could not be barred from coming to India and conducting international commercial arbitration. 
Appearing for certain UK-based law firms, Datar had told the Bench that only court practice of lawyers would fall within the ambit of the Advocates Act, 1961.
"My argument is 'fly in and fly out'" will not amount to practice. International Commercial arbitration involves a party who is not Indian and law that may be foreign law. Indian lawyers and retired judge regularly go abroad to Dubai, UK, etc. to appear for arbitrations without getting enrolled as lawyers in those countries," he contended.
Datar had contended that that Section 33 of the Advocates Act permitted a person other than an advocate under the Act, to practise law in certain situations. He had defended the Madras High Court's verdict that allowed the concept of "fly in and fly out" with regard to foreign lawyers and law firms.
The Law Commission in its 266th report had supported entry of foreign lawyers and law firms.
All readers are invited to post comments responsibly. Any messages with foul language or inciting hatred will be deleted. Comments with all capital letters will also be deleted. Readers are encouraged to flag the comments they feel are inappropriate.
The views expressed in the Comments section are of the individuals writing the post. The Tribune does not endorse or support the views in these posts in any manner.