Data indicates 9.8% median pay gap, as hundreds of companies file figures before deadline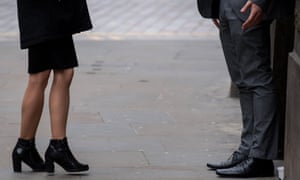 Almost eight in 10 companies and public-sector bodies pay men more than women it was revealed, as the midnight deadline passed for businesses to report their gender pay gap .

Some eight years after the law was tabled to compel companies across Great Britain to reveal the extent of the difference between male and female wages, the data showed that women were being paid a median hourly rate that, on average, was 9.7% less than that given their male colleagues.
By midnight on Wednesday 3,010 companies and public-sector organisations of a total of 10,014 which had filed had reported a pay gap that was above the national median of 18.4%.
The government and the Equality and Human Rights Commission said they would not comment on the number of companies and public-sector bodies that were required to report their figures.
Earlier figures from public-sector organisations, which had to report their gender pay gaps by 30 March, suggested nine in 10 paid men more than women, with an overall gender pay gap of 14%.
More than 1,100 companies reported their figures in the 24 hours before the deadline – more than the total number of companies that had reported in the first 326 days of the scheme. Companies had to file data based on a "snapshot" of their payroll taken on 5 April 2017, and could file the information at any point after that. Companies will now have to repeat the exercise on a yearly basis.
The figures are imperfect. The key measure of the median hourly pay gap across an entire business does not address the gap in similar job roles; the quality of the data is also patchy, and, due to exemptions, high-level executives, including partners and non-employed, typically low-paid workers are not included in the data.
But the data-gathering exercise – unmatched anywhere else in the world to date – reveals structural inequality of opportunity and will force employers to look at the barriers facing women's progression in the workplace, according to Sam Smethers, chief executive of the Fawcett Society. "It's a game changer. It forces employers to look at themselves and understand their organisations and it prompts employees to ask some hard questions," she said.
Smethers said the interest generated by the reporting requirement was helping women speak out about inequality of opportunity in their workplaces. "Finally women are realising that they have a right to talk about pay and they cannot be silenced. By finding out what their colleagues earn, they are then in a position to challenge any pay inequality. It is much more common than people realise."
The home secretary, Amber Rudd, who is also the minister for women and equalities, said there was no excuse for companies not to be transparent, and that closing the pay gap made economic sense. "Businesses should see reporting gender pay gap data as just the first step on the road to creating fairer and more equal workplaces across the UK," she said. "They should be putting action plans in place to break down the barriers to women's progression in their organisations."
The sectors with the largest gender pay gaps were facing difficult questions as the deadline closed, with construction, finance and insurance, and education, exposed as the industries with the largest gaps.
Guardian analysis based on organisations' own categorisation of their businesses showed that construction had the largest sector-wide gap, with an average median pay gap of 25%. The gap was 22% in the finance and insurance sector and 20% in education.
Schools, particularly multi-academy trusts and some of the country's best-known public schools, reported huge pay gaps. More than 40 multi-academy trusts reported pay gaps of 50% or more.
Accommodation and food services emerged as the sector with the smallest pay gap, with an average median pay gap of 1%. Many firms use flat pay rates with high numbers of staff on the minimum wage, which could explain the nominal gap.
Hundreds of recognisable names filed results just before the deadline closed. They included Apple UK, which reported a 24% pay gap; the company stated that when all UK employees were taken together the pay gap was 2% in women's favour.
In the banking sector, Macquarie Corporate Holdings reported a 60% gap and Macquarie Bank 53%. In sport Millwall Holdings, the parent of the Millwall Football Club reported a pay gap of 80% in the hours before the deadline.
In fashion, Karen Millen reported paying women 49% less on a median hourly basis, meaning that, company-wide, men's median pay was double that of women. Women made up 84% of the company's top positions and the same proportion of men and women received bonuses, yet women's median bonus pay was 96% lower than men's.
Other names from the high street included Victoria's Secret at 19% and French Connection, which reported a gap of 1.6%. Benefit Cosmetics revealed a 30.7% gap although women made up more than 90% of each pay quartile at the company.
Others to report in the last 24 hours included the construction giants John Sisk, which revealed a 45% pay gap and just 5% female top earners. Columbia Pictures and Warner Bros Entertainment reported gaps of 15% and 23% respectively. Three big record labels also recorded significant pay gaps: 16.7% at Universal, 4.6% at Sony, and 21% at Warner.
Ryanair reported the worst, by some distance, gender pay gap in the transport sector, at 71.8%, and said 97% of its top-earners were male.
The figures highlight the inequalities between men and women's standing in the workplace, but the extent of the lessons learned is limited by the figures the government has requested and the quality of some of the data being filed.
Julian Jessop, of the Institute of Economic Affairs, said the reporting could have unwelcome consequences, including creating a feeling of resentment among workers or the outsourcing of lower-paid, female-dominated, roles such as cleaning. "I don't think the data is necessarily telling people what they think it is telling them," he said. "That there is a gender pay gap in favour of women in part-time work, for example, if not prima facie evidence of discrimination in favour of women."
But Helene Reardon Bond, a gender pay gap expert and former senior civil servant, who played a key role in shaping the requirement to report the figures, said the significance was "monumental".
"The gender pay gap deniers will say that the gap only exists because of the choices women make, but while everyone makes choices women make constrained choices," she said. "This is absolutely monumental: we have got people from all different industries and walks of life sitting down and talking about this. Most businesses have never worked out their gender pay gap. Well, now they have, the question remains what they will do about it."