Lady Hale: 'Studying law? Make sure you have the stomach for it'

The first female head of the supreme court shares her advice for would-be lawyers, and remembers her rise to the top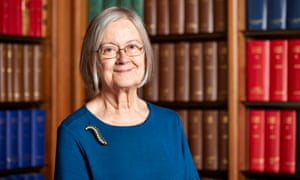 After graduating from the University of Cambridge in 1966, Lady Hale taught law at Manchester University until 1984, during which time she also qualified as a barrister. She has also served as a high court judge, a lady justice of appeal, a lord of appeal in ordinary, and was appointed the first female president of the supreme court in October 2017.
What are your tips for students looking for their first job in law?
First, get the best degree you can – you'll be going into a competitive market place. Second – be flexible about what sort of law job you go for and where. There are lots of fascinating and rewarding parts of the legal forest which are not barristers' chambers in London or magic circle law firms.
Third – be prepared. Prepare carefully when you fill out your application form and when you go for interview. Find out as much as you can about the place, the job and the people, and think about the questions they may ask you. If you haven't an answer, you won't get the job.
Did you have a mentor during your career? Do you advise young people working in law to have one?
Aside from my pupil master at the Manchester bar, there was no formal system of mentoring young university teachers when I was one. The professors varied a great deal in how much help they gave to others. But one stood out – Professor Julian Farrand – because he took the trouble to put opportunities our way. Many years later we married. It's a very personal thing – some people are individualists who thrive on making their own way, while others respond better to mentors.
How has diversity in the legal profession changed over the course of your career?
I was one of six women out of a class of well over 100 who studied law at Cambridge in 1963. Now there are more women than men studying law and starting out in the profession. But, as with many professions, there is serious attrition later on. It is not easy to combine practice at the bar or in a big city solicitor's firm with family and other responsibilities. Many able women move or become in-house lawyers. This means that fewer remain in the pool from which the senior judiciary are traditionally recruited. So we are still seriously under-represented at most levels of the judiciary and especially higher up.
But other sorts of diversity are also important – ethnic diversity, where there is still a great deal of work to do, but also diversity in social, economic and professional background. The law, the legal profession and the courts are there to serve the whole population, not just a small section of it. They should be as reflective of that population as it is possible to be.
What made you specialise in family law?
It seemed to me that academic family law should not be dominated by male scholars – as it then was – and so I gradually moved more into it, along with social welfare law, which was a developing subject at the time.
What has been your proudest career achievement?
It's a close-run thing between my time at the Law Commission and becoming the first woman law lord. At the Law Commission, I was fortunate enough to play a large part in what is now the law relating to children, domestic violence, adoption and mental capacity. But to become a law lord is a proud achievement for anyone, male or female, and to show other women and girls, and indeed everyone, that a woman can do it has made it an even prouder achievement for me.
You worked as an academic, barrister and law reformer before being appointed a judge. How do you think your different backgrounds have helped shape your career?
All three of them made a big contribution to my career as a judge. Obviously I could not have become any sort of judge had I not been a barrister, and that taught me a lot about courts, the people who use them and the people who work in them. But teaching bright young adults also teaches one a lot about the law – and quite a lot about how to spot liars. Law reform teaches you to think more broadly about what is wrong with the current law, how it might be improved and how to translate those improvements into workable legislation. All of those have been helpful to me.
What advice can you give to those considering a career in law?
Find out as much as you can, not only about careers in the law, but also about what it is like to study law. There's no harm in being enthusiastic about the fight for justice, or romantic about the criminal trial process, or ambitious for the rich rewards which some lawyers can achieve. But you have to go through a lot of hard work studying to achieve any of those, so make sure that you have the stomach for it.