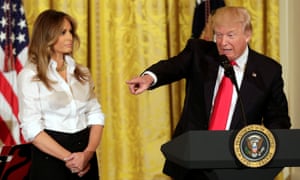 Lawyers who said Trump has no ties to Russia named Russian law firm of 2016

Morgan Lewis honored with prize by Chambers Europe
Law firm said Trump had no financial ties to Russia 'with a few exceptions'
Sean Spicer refuses to deny that Trump is taping White House visitors
The law firm that said Donald Trump has no financial ties to Russia "with a few exceptions" was recognized in 2016 as Russia law firm of the year.
In the letter released on Friday – but dated 8 March – Morgan Lewis tax partners Sherri A Dillon and William F Nelson said a review of Trump's tax returns for the past 10 years did not find income from Russian sources during that period, save for "a few exceptions".
Trump has refused to release his tax returns, a break with decades of tradition. The law firm did not release copies of the returns, rendering its assessment of the documents impossible to verify independently.
Morgan Lewis was honored by Chambers Europe, a division of publisher Chambers & Partners that ranks law firms based in the region. According to a press release dated 2 May 2016: "The prestigious honor was announced at the publication's recent annual awards dinner in London, where firms from 24 countries were recognized."
Morgan Lewis did not immediately return a request for comment. According to its website, the firm's Moscow office "provides full-service business representation", including advice on "corporate and finance matters; mergers and acquisitions; transactional finance; litigation and international arbitration; energy and natural resources projects; real estate property transactions; labor and employment issues; immigration; and a wide range of regulatory matters".
Trump's presidency has been overshadowed by allegations of collusion between aides and Russian officials. On Tuesday, Trump fired James Comey, the FBI director who had been leading the agency's inquiry into Russian interference in the US election.
The White House and the president have provided conflicting rationales for the decision. Initially, the White House said the president acted on the recommendations of his attorney general, Jeff Sessions – who has recused himself from the federal Russia investigation after failing to disclose meetings with the Russian ambassador – and the deputy attorney general, Rod Rosenstein.
In an interview on Thursday, Trump contradicted this line. Flatly denying any collusion between his campaign and Russia, he told NBC News that he had decided to fire Comey.
The president said: "I said to myself, I said: 'You know, this Russia thing with Trump and Russia is a made up story, it's an excuse by the Democrats for having lost an election that they should've won.'"
On Friday, a copy of the letter from the Morgan Lewis partners was made public by the White House after the president issued a series of tweets that appeared to threaten Comey and suggest that he had been secretly recording official meetings.
White House press secretary Sean Spicer later said the president's tweet was not a threat and that he had "nothing further to say".
The exceptions outlined in the letter from Trump's lawyers include selling a home to a Russian billionaire for $95m, twice what Trump paid for it three years before, and profits from staging the Miss Universe contest in Moscow in 2013.
Trump has repeatedly denied having any investments in or ties to Russia, despite statements to the contrary from himself and family members in recent years.
Trump has, for example, worked closely with Russian-born businessman Felix Sater, the managing director of Bayrock, to develop the Trump Soho hotel in New York. Bayrock was founded by Tevfik Arif, a former Soviet official.
In a 2008 interview, Trump's eldest son, Donald Trump Jr, said: "Russians make up a pretty disproportionate cross-section of a lot of our assets." He added that "we see a lot of money pouring in from Russia".