Written by Apurva
| Beijing |
Updated: November 25, 2017 7:38 am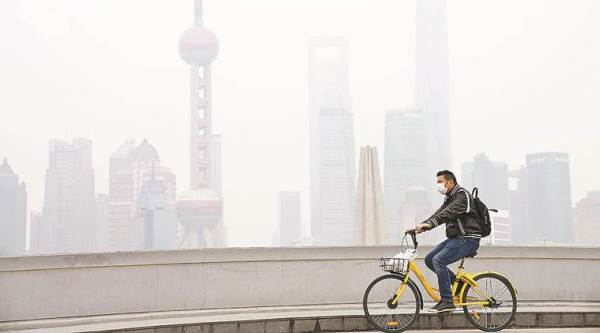 Smog shrouds Pudong in Shanghai on Wednesday. Reuters photo
TWO MONTHS ago, a metal wire-drawing plant in Shanghai was shut for violating environment norms. The plant was supplying material to a German auto-parts making company, which claimed that the production of 3 million cars in China would be affected due to the shutdown, amounting to a loss of $45 billion.
But the government did not budge and the German company, Schaeffler, was eventually forced to make alternate arrangements. For companies in China, this was the first major signal that the administration had ramped up its crackdown on environment polluters.
According to the state-run newspaper, Global Times, China's environment ministry "urged automakers to learn a lesson from the Schaeffler incident and enforce compliance checks of their supply chains".
"The authorities in Shanghai simply cut off water and electricity supply to the company. The company had been given three months to comply with norms after an inspection, but they paid little heed. The German company even petitioned the central government asking for more time, but to little avail," said Pan Jiahua, director, Institute for Urban and Environmental Studies, China Academy of Social Sciences.
The inspection was part of a massive drive that Chinese President Xi Jinping implemented in 2015. Country-wide inspections in all 31 provinces resulted in 135,000 reports of violations, of which 104,000 cases were handed to the local government and 102,000 resolved, according to Environment Minister Li Ganjie. "About 80,000 cases involving waste, smoking, odour, noise, polluted enterprise and water pollution have been handled properly," Li said last month.
The state-run newspaper, China Daily, reported that Beijing alone shut 6,000 polluting companies over the last few months as part of its plan to arrest declining air quality in the winter. In the Beijing, Tianjin and Hebei tri-region, 130,000 companies were shut after several rounds of snap inspections.
"These companies say they contribute to wealth in China and the GDP, but I believe health is more important to the government now. Many companies were given preferential treatment to attract FDI years ago, but it cannot come at the cost of the environment," said Pan.
The Indian Express had reported this week on the preventive measures put in place by China to control air pollution, including an odd-even policy on all weekdays when the highest haze level is anticipated. And, how an effective early weather warning system has emerged as a key factor in these efforts.
Experts in Beijing say these measures are now being supplemented with strict action against all polluters — big and small, foreign and domestic.
It was in 2016 that China shifted focus from just GDP to include environment improvement while ranking provinces and counties — equivalent to India's states and districts. Then, the government promulgated a law called 'Measures for the Assessment and Evaluation of the Objectives of Ecological Civilization Construction' and put in place a series of indicator systems.
"The evaluation focusses on the progress of ecological civilisation construction in each region in the previous year, carried out once a year to evaluate resource utilisation, environmental governance, environmental quality and ecological protection, quality of economic improvement, green living, public satisfaction and so on," said Pang Jun, Associate Professor, School of Environment and Natural Resources, Renmin University of China in Beijing.
"Every five years, more official departments such as the Ministry of Finance and the Ministry of Land and Resources are involved in the assessment, to evaluate the binding targets of resources and environment, and the accomplishment of major goals and tasks of ecological civilisation construction. The target results serve as an important basis for the performance evaluation of… various provinces," Pang said.
According to Pan Jiahua, the government has shifted to a policy of air and water quality instead of quantity and setting discharge standards. "We realised that quantity control does not work and we realised we must turn to quality control… environment quality. You can emit as much as you can, but you must meet air quality standards. It's not about discharge standards," he said.
Pan explained that the process was simple. "If you cannot meet standards, you shut down. If authorities find that a factory is not able to meet the quality level, or violates quality level of water or air, they give you three months. If you cannot upgrade, you will be shut down. One warning, that's it," he said.
A senior official of a Swedish manufacturing company in Beijing told The Indian Express, "We have been in Beijing since 2000 and are heavily invested here. But last year, when an orange alert was sounded, inspection teams came to the company. Our factory was fine, but power was shut off to a neighbouring plant."
The official said that environment norms in China were getting harsher, but since his company had already made huge investments, it was easier to comply than shift to another country.
Pang Jun echoes this sentiment. "I don't think harsh environment laws will hinder trade and business. Maybe, some heavy pollution enterprises will face problems when harsh environment laws are brought into effect. But trade and business with cleaner technology and environmental friendly products will increase business opportunities, while the general public and the government can avoid the high cost of environmental deterioration," he said.
For all the latest World News, download Indian Express App