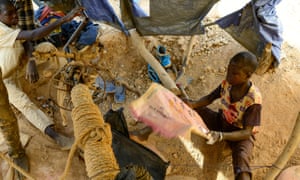 Modern-day slavery in focus
'Path to illegal behaviour': UK accused of failing to press home anti-slavery law

Campaigners urge government to act against companies that do not comply with legislation requiring them to disclose trafficking and slavery risks
The government must start enforcing new legislation requiring companies to disclose slavery and trafficking risks in their supply chains, say anti-slavery campaigners.
Under the Modern Slavery Act 2015, any company with a turnover of more than £36m that is registered and provides goods and services in the UK must file an annual statement under the Act's transparency in supply chain (Tisc) clause. In the statement, they must identify risks of slavery and human trafficking in their supply chain, and outline the steps they are taking to tackle those risks.
But according to the Tisc report, a global supply chain transparency register, of the 3,939 UK companies who should have filed a statement, only 1,683 – less than half – have done so.
Jaya Chakrabarti, CEO of the Tisc report, said: "Non-compliance is an alarm bell as to whether companies have all their ducks in a row and are operating within the law. Some companies will be accidentally non-compliant. Others are deliberately ignoring the act. The path to illegal behaviour begins with non-compliance."
Similar concerns were expressed in a report released on Wednesday by the Core Coalition that analysed the modern slavery statements of more than 50 consumer brands sold to customers in the UK. The study criticised cosmetics companies including Revlon and Boots for failing to acknowledge the risk of child labour associated with the mining of mica, a mineral widely used in the production of cosmetics, in India.
Core also looked at anti-slavery statements filed by chocolate companies including Hershey, Ferrero and Lindt & Sprüngli, none of which outlined the risk of child and forced labour in cocoa plantations in west Africa. Similar shortcomings were identified in statements provided by jewellery firms, which did not acknowledge the risk of labour abuses linked to gold mining. The International Labour Organisation estimates that almost 1 million children work in gold mines worldwide.
A spokesperson said the Home Office was confident the legislation was working. "Thousands of transparency statements have now been published … All new legislation takes time to embed but the Modern Slavery Act is clearly already having a significant impact in driving business action against this abhorrent crime.
"We are confident that compliance will largely be driven by public scrutiny, without the need for burdensome regulation, and are looking at what we can do to amplify the value of statements to customers, stakeholders, investors and activists."
But Marilyn Croser, director of the Core Coalition, said it was up to the government to enforce the legislation it had passed to tackle modern slavery in corporate supply chains.
"It is essential that the government makes this law work," said Croser. "At the moment it is very difficult for the public and civil society to scrutinise the reporting because the government has not provided a public list of the companies covered by the legislation. Giant corporates cannot continue to profit from the exploitation of millions of people."
Diane Abbott, Labour's shadow home secretary, said: "The Tory government announced its anti-slavery policies with great fanfare, but we see now there has been almost no action. There is a general chaos at the heart of this government. But in failing to implement anti-slavery measures, it is unforgivable."