For the very first time, the Demas Law Group launches bicycle giveaway via Instagram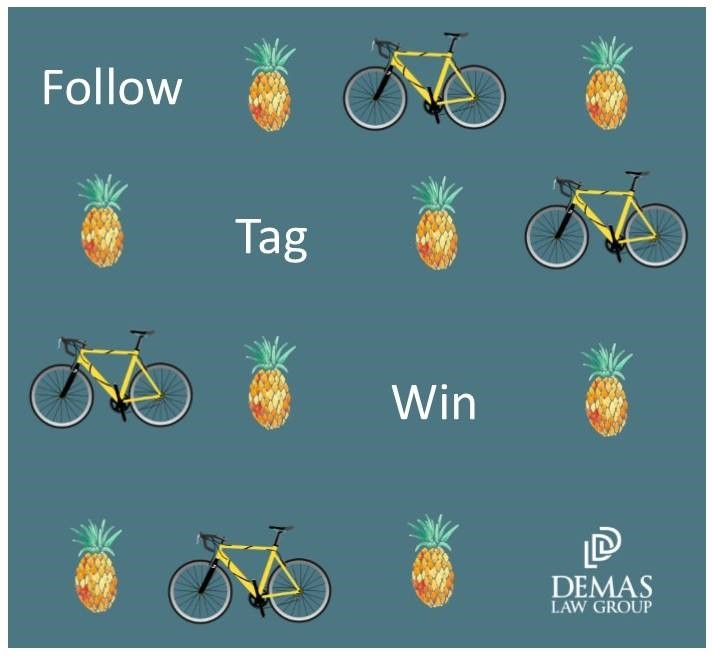 Like this photo on Instagram!
SACRAMENTO, Calif. – June 13, 2017 – PRLog — With summer in full swing, there's no better way to enjoy the vast outdoors in Sacramento and the surrounding area than on two wheels. Plus, there's no denying that an enjoyable bike ride is a great way to burn calories. That's why the Demas Law Group is happy to announce its first ever bicycle giveaway. According to the firm's founder, his office hopes to promote physical activity.
"At our firm, we are passionate about biking and getting exercise outside of the office. We know that the benefits of cycling go hand in hand with living a long healthy life, and we want to share this passion with all of Sacramento," stated personal injury attorney, John N. Demas.
According to health experts, cyclists can burn up to 600 calories an hour, helping to reduce their risk for obesity. Currently in California, more than seven million adults and adolescents are obese based on a report by the UCLA Center for Health Policy Research. For Demas and his talented team of attorneys, his firm's bike giveaway is just one small way to help curb the problem.
"There's no secret that obesity leads to diabetes, cardiovascular problems and even increases the chances of some cancers," stated Demas. "With Sacramento's unlimited nature trails along the many rivers and lakes, there's no excuse to not be active when we have such amazing scenery to take in."
Taking part in the firm's bicycle giveaway is simple. All participants have to do is follow the Demas Law Group on Instagram (https://www.instagram.com/demaslawgroup/) and tag a friend in this photo (https://www.instagram.com/p/BUuRCu4l0uZ/?taken-by=demasla…) in the comment's section. The firm will randomly select a winner of a brand new bicycle on June 22nd.
"We look forward to crowning our winner," stated Demas.
About The Demas Law Group: Our firm didn't become one of Sacramento's leading personal injury law firms overnight. For almost 25 years, our skill at practicing law, our dedication to our clients, and our commitment to the Sacramento area community have earned us respect and recognition from our peers, numerous professional organizations and most importantly, our clients.