Legislators' questions about a proposed sweeping criminal justice overhaul turned what Orleans Parish District Attorney Leon Cannizzaro thought would be a two-minute hearing Wednesday to clean up a technicality into a two-hour ordeal.
Cannizzaro was seeking only to add armed robbery to the list of crimes in the state's racketeering law, as it was the only robbery charge left off when the criminal enterprise statute was written in 1984.
He said New Orleans has seen a surge in gang-related armed robberies that he thinks are connected to gangs raising money for guns and drugs. Being able to charge a defendant with being involved in an organized criminal enterprise as well as the actual crime helps explain not only what was done but also why, and it gives prosecutors greater tools to go after the gangs themselves.
Given that the House Committee on the Administration of Criminal Justice is full of former law enforcement officials, advancing House Bill 304 seemed like a fairly simple proposition. The bill is sponsored by Rep. Stephanie Hilferty, R-New Orleans.
But before the panel approved HB304 without objection, the members peppered Cannizzaro with questions about how adding armed robbery to the racketeering law might impact the various cogs in the state's criminal justice system.
"I thought I'd be in and out in a couple of minutes," Cannizzaro said after the hearing. "I think you were seeing the pressure of legislators working through justice reinvestment. It showed me how serious they're taking their roles."
Legislators next week are expected to take up the bulk of the 10 bills that stemmed from recommendations by the Louisiana Justice Reinvestment Task Force.
The bipartisan effort includes measures that would lower criminal sentences, focus more on diversion rather than prison, and improve rehabilitation programs for convicts. The legislative package would reduce the state's prison population by an estimated 13 percent over the next decade, which would save about $300 million.
But the state's district attorneys oppose the bills, and some – though not he, Cannizzaro said – are actively lobbying their local lawmakers.
Related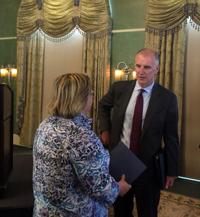 Conservatives making their case to legislators for a bipartisan package of bills that propos…
Committee member Rep. Terry Landry, a New Iberia Democrat who also was a member of the task force, said that while supportive of the idea, he was concerned about the interplay between adding armed robbery to the list of racketeering crimes and the changes being proposed to the criminal justice revamp.
"I don't think there's any rush to move this along," said Landry, a former superintendent of the State Police,
Baton Rouge Rep. C. Denise Marcelle, a Democrat, also didn't oppose the change, but said "we do need to revisit" the issue once debate begins on the bulk of the criminal justice revamp package.
Democratic New Orleans Rep. John Bagneris referred to a triple shooting Tuesday night in Gentilly. One woman was killed and two people were wounded.
"In New Orleans, we have a unique problem," Bagneris said. "We cannot get to these gangs unless we do this."
"We're over-criminalizing things," said Elain Ellerbe, Louisiana state director for Right on Crime, a conservative advocacy group that is pushing to change the incarceration-focused criminal justice system.
"We're not creating the crime of racketeering here," replied state Rep. Tony Bacala, a Prairieville Republican who once was a deputy with the Ascension Parish Sheriff's Office. "Yes, we have a bigger picture we need to address, but right now we have a small piece," he said.
It's all the small pieces that created the bigger problem, Ellerbe replied.
State Public Defender James T. Dixon Jr. said he understands the need for additional prosecutorial tools and doesn't really have an opinion on adding armed robbery to the racketeering law. "Nobody thinks of the ramifications of all these little things," he said.
Racketeering cases involve multiple defendants, all of whom need lawyers from different firms, because the defense for each differs.
Most public defender offices don't have enough outside attorneys to handle more than a few defendants in the same case. If a judge orders private lawyers to represent defendants, the public defender has to pay them.
"With what? I have no money," Dixon said.