Seven firms have submitted proposals to guide the search to find a new University of Kansas chancellor, with a goal of having that person on the job by July 1, 2017.
The seven firms responded to a request for proposals put out by the Kansas Board of Regents, for which the deadline was Friday, Regents spokeswoman Breeze Richardson said.
Choosing a firm to hire will require a vote of the full board and will take place in a public meeting, either one of the board's monthly meetings or, if necessary due to timeline constraints, a special session called for that purpose, Richardson said.
KU Chancellor Bernadette Gray-Little announced in September that she would step down from the post after the 2016-17 school year. Gray-Little, 70, has been KU chancellor since 2009.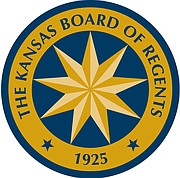 The firm that's ultimately hired is expected to begin work in November, according to the Regents' request for proposals document. The Regents aim to announce a chancellor no later than June 2017 so that person can assume duties "preferably on or about July 1, 2017."
Richardson said the following firms responded to the Regents' request for proposals: Academic Search; AGB Search; Isaacson, Miller; Parker Executive Search; RPA, Inc.; R William Funk; and Witt/Kieffer.
One of the firms, R. William Funk and Associates, is the same that the Regents used in KU's last chancellor search, when Gray-Little was hired. Over the course of that search the Regents spent more than $120,700 on search consultant fees, according to figures obtained by the Journal-World for a 2010 report.
KU also contracted with R. William Funk and Associates in its recent provost search, after which KU School of Business Dean Neeli Bendapudi was hired as provost effective this summer.
The Regents are using Academic Search for their current search for a new president at Kansas State University.
The Regents' request for proposals summarizes KU's enrollment, various campuses and academic programs — highlighting the numbers of Rhodes Scholars, millions of dollars in research grants and a few highly successful alumni, among other points of pride for the university.
Requirements listed in the document indicate a desire to find a firm with a track record of recruiting leaders at large schools comparable to KU and the ability to attract qualified candidates including those from "underrepresented populations."
The scope of services listed in the document also addresses confidentiality, noting that the chosen firm must "maintain all applications, resumes, and related materials in a manner that is consistent with the requirements of state and federal law and which is designed to preserve the confidentiality of all prospective candidates for the position."
The Regents have yet to vote on whether the KU chancellor search will be open or closed — meaning no candidates will be publicly announced except the one who is ultimately hired — but Regents have indicated it is likely that the search will be closed, in keeping with KU's last chancellor search and K-State's ongoing search. The executive committee of KU's University Senate, however, has formally asked the Regents to conduct an open search that would require finalists for the position to make a public presentation to the university community.
Besides hiring a consulting firm, next steps by the Regents will include approving a chancellor search committee chairperson and members and, later, a job description to advertise for the position.
KU news
Have a story idea?


Contact Journal-World KU reporter Sara Shepherd:
Copyright 2016 The
Lawrence Journal-World.
All rights reserved. This material may not be published, broadcast, rewritten or redistributed.
We strive to uphold our values for every story published.