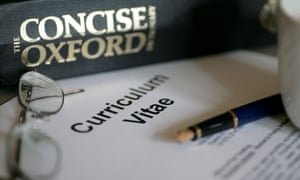 What law firms want: job hunting tips for trainees

Applications, placements, interviews… It can be brutal securing a job in law. Whatever stage you're at, here are the dos and don'ts of applying
Securing a job in law is hard. Summer can be a brutal time of application forms, assessment days, interviews and rejections. Some students will be invited to a placement. Others won't get anything and will continue their search into next year.
Charles Smith, a 28-year-old solicitor from Liverpool, says he found the process soul-destroying. "It made me wonder if I'd ever actually practise. I'd go on Facebook and see 153 likes on a post saying someone had just got something, and I'd think maybe I was just one of the unlucky ones."
Trainee solicitor George Canter, 26, agrees. "I had to deal with an enormous amount of rejection; most of the places I applied wouldn't even give me an interview."
Whatever stage you're at in the process, don't despair. We've got the dos and don'ts of applying.
Don't: hide your cool
How much of your personality do firms want to see? Liz Blight, HR manager at Fox Williams, says she wants candidates to be honest. Her advice is to avoid coming across as robotic and steer clear of big words, "especially corporate buzzwords that don't fit naturally into responses".
Although everyone gets nervous, Victoria Tavener, HR officer at Kingsley Napley LLP, says recruiters try to see beyond that. To help bring out a candidate's personality they ask questions such as "how would your friends describe you" and "who would you like at your dream dinner party". But know when to keep quiet, she says. "Talk about your role and experience but don't waffle and have the confidence to know when to stop speaking."
Don't: think you have to be perfect
Trainee solicitors are recruited to do just that: train. "It's unreasonable for firms to recruit you and expect the finished product," says Bryan Scant, chair of the Junior Lawyers Division. "If you are coming straight from your Legal Practice Course with no real legal experience then you clearly won't be at the same standard as a newly qualified solicitor."
Others agree. "We want to train people in a specific way," says Tavener. "We're looking for potential – someone who's passionate about the areas we practice in and has an understanding of how a law firm operates and the challenges they are faced with. By no means do we expect a finished product."
Just bear in mind that if you have worked for three years as a paralegal in one particular area then the bar is going to be set much higher for you.
Do: make sure you meet the criteria
Target your applications. Make sure you are going to be considered seriously. Some firms say they want a 2.1 but when you look closely what they actually want is a 2.1 on every module.
"The advice we give to students is don't waste your time on an application when you're not going to meet the criteria," says James Catchpole, director of the Legal Practice Course at The City Law School. "Be strategic: will that firm genuinely look at you?"
If you have mitigating circumstances, you need to explain them in the best way possible.
Do: look at each firm individually
If you want to do employment law, don't just apply to every firm that has an employment department. Look at the number of people who work in that team; if it's one partner and one junior then chances are you're not going to get a training seat there so don't apply. "That's not pitching in a savvy way if it's their small business area and it's complementary to everything else they do," says Catchpole. "Look for firms that have substantial areas of activity in the area you want to practice in."
Tavener agrees and recommends doing your research. She says it's very obvious if candidates haven't thought about their practice areas. "We have a very small commercial team and people who come in wanting to be corporate lawyers have really come to the wrong place," she says.
Do: remember what matters
You are going to spend your waking day with your work colleagues, so remember that job hunting is a two-way process. "Selecting graduates is as much about us assessing them as [it is] them selecting us," says Blight. However much you may want to work for a firm in theory, if you don't like them upon meeting do you really want to spend two years there?
Don't: lose confidence
Remember how competitive law is and that you are not the only person finding it hard. "Most solicitors have been in that position where their friends are being offered training contracts and you aren't, but you have to keep trying," says Scant.
Catchpole agrees and points out that you shouldn't limit your search to the glossy brochures. There are firms recruiting all year round and you need to hunt them down. His advice is to reflect on why you've been rejected: "if there's the opportunity to get feedback, take it and act on it".
Above all, don't lost hope. "Everything happens for a reason," says Catchpole, "and if they decide they don't want you then that's not your firm. Yours is out there – you just haven't found it yet".
Follow Guardian Students on Twitter: @GdnStudents. For graduate career opportunities, take a look at Guardian Jobs.