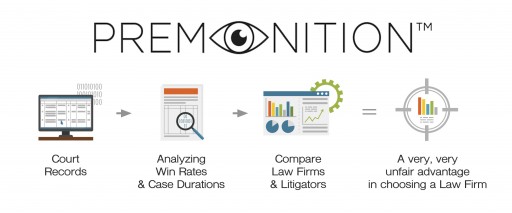 Miami, Florida – September 21, 2016 – (Newswire.com)

Premonition, the World's largest litigation database, just announced the addition of a new Law Firm Report to its innovative and revolutionary analytics product. Premonition is an Artificial Intelligence system that mines Big Data to find out which Lawyers win before which Judges. According to the company, "It is a very, very unfair advantage in Litigation."
While some may view legal analytics to be controversial, they are causing a fundamental shift in the way that General Counsel choose their Panel Law Firms. Prestige in the legal industry has traditionally been based on law firm brand and peer recognition. "Law has historically been a credence good. This means the market relies on elite credentials and firm reputation as a proxy for skill," explains Professor William Henderson, of Indiana University Maurer School of Law. Premonition's analytics can identify top performing lawyers by win rate, case type, case duration and Judge. General Counsel see value in Premonition's ability to select lawyers based on actual performance instead of relying on peer nominated awards and rankings. "It's getting harder and harder to sell the time of mediocre litigators who hide beneath the umbrella of a prestigious Law Firm brand." says Premontion CEO, Guy Kurlandski, "Transparency is coming."
Premonition's Law Firm Report is bringing the same revolutionary analytics to Law Firms and the Panel Selection process. According to the company, the new Report was developed at the request of General Counsel to assist them in choosing their Panel Firms. It will allow Corporate Counsel to compare Law Firms by win rate and case duration and also benchmark them to the market average. For the first time, Corporate Counsel can use litigation analytics to find the most efficient and effective Law Firms and accurately measure the value of their legal spend. "Performance transparency is very important, but with this tool, we can now go even further. The era of guesswork is over. Hiring by metrics has arrived. Our process for selecting external counsel will change." says Nissan Canada General Counsel and Premonition Advisory Board Member, Fernando Garcia.
Learn more at www.Premonition.ai
Follow us at https://www.linkedin.com/company/premonition-analytics for insider legal news and updates.
Related Links
Learn more about Premonition
Get a Free Demo
Press Release Service
by
Newswire.com
Original Source:

Clients Demand Performance Data From Law Firms


This article was originally distributed via Newswire.com. Newswire.com, Frankly and this Site make no warranties or representations in connection therewith. If you are affiliated with this page and would like it removed please contact pressreleases@franklyinc.com