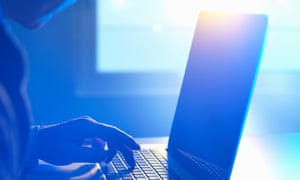 UK security and counter-terrorism
Extremists driven off Facebook and Twitter targeting smaller firms

Event on using technology to fight terrorism told small networks facing an influx and lack resources to block accounts
Smaller social networks are struggling to deal with an influx of extremist users forced off the platforms of the "big four" technology firms, an audience of policymakers and campaigners has been told.
Thanks to the success of companies such as Facebook and Twitter in using technology to spot and block accounts supporting terrorism increasingly quickly, extremists have been forced to find other online forums in which to congregate. Unlike the larger social networks, many lack the resources to respond to police reports, let alone proactively monitor signups for extremists.
Speaking at an event on using technology to fight terrorism at Chatham House in London, Mariusz Żurawek, the founder and sole employee of text- and image-sharing site Justpaste.it, detailed his struggles. "We are a single-person company, operated from Poland but 60% of our users are speaking Arabic, we operate in 24 languages around the world, and receive 5-10m visits every month," he said.
"I wasn't planning that I would be sitting here today because the fact that terrorists started to use the site was a big surprise for me. The service wasn't designed for such purposes."
Even receiving police reports was problematic, he said: "When I started to receive complaints from others around the world in languages I wasn't familiar with, like Hindi and Arabic, it was a big problem. I didn't know what laws applied … and I didn't know how to process such a big amount of material by myself."
In common with larger social networks, Żurawek expressed doubts about whether he could be sure law enforcement agencies were doing the right thing. "I didn't know who I could trust because you can't always trust the word 'police' around the world," he said.
The Guardian highlighted Justpaste.it as an Islamic State "propaganda tool" in 2014, when it was widely used as a way of sharing images on other social networks without needing to host them on those sites directly. At the time, Żurawek said: "I do not want to interfere with any type of conflict and stay on one side. JustPaste.it is just a text-sharing platform. It's more a politics thing to discuss than a business one. I don't have enough information about Isis to tell the public if they are good or evil. JustPaste.it has many users. I cannot focus on a single group."
Three years on, the challenges faced by his site have been counterintuitively worsened by the success of the likes of Facebook and Twitter at fighting extremism on their own platforms.
Nick Pickles, Twitter's UK and Ireland head of policy, said the company had suspended 650,000 users – "a number far higher than many academics thought existed". The company automatically detects "upwards of 75% of those accounts through technological means," he added, signalling a shiftfrom relying on user and law enforcement reports.
A significant boost to technological means of identifying extremist accounts came from an "image-hashing" database developed jointly by Facebook, Twitter, Microsoft and Google. The companies process images known to be terrorist propaganda, and share a technological fingerprint of the data between themselves, allowing them to not only identify when the images have been reposted, but also to identify new accounts of extremist users. The technique is similar to that used to catch and remove child abuse material.
But Erin Saltman, Facebook's policy manager for counterterrorism matters, said it was not enough to just remove people posting images tagged in such a way. "Machines have never been very good at nuance," she said. "Even a human can struggle with tone and context."
The next step for the companies is to open that database up to smaller firms, such as Justpaste.it, which have little ability to police their own sites. To that end, they have formed the Global Internet Forum to Counter Terrorism, which involves providing not just access to the hashing database itself, but technical help in implementing it, as well as legal advice on the risks and responsibilities raised.
"If you are a small company, you have no way of accessing that knowledge," said Pickles. "The forum will bring small companies together. For some, just admitting that terror is a problem isn't easy."