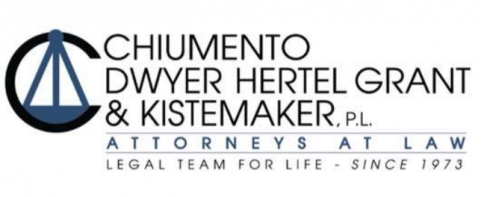 Chiumento Dwyer Hertel Grant & Kistemaker., P.L.
PALM COAST, Fla. – March 11, 2018 – PRLog — Michael D. Chuimento III, managing partner, is pleased to announce three new partnerships at their 45-year-old law firm.
In addition to Michael Chiumento III, Mike Chiumento and Marc Dwyer, who currently serve as partners, Chiumento recently named Ronald A. Hertel, Andrew C. Grant, and Erum Siddiqui Kistemaker as partners this month.
Kistemaker merged her Volusia County law firm, Kistemaker Business Law, with Chiumento Dwyer Hertel Grant, P.L. The firm is now named Chiumento Dwyer Hertel Grant & Kistemaker, P.L.
The merger with Kistemaker will allow the firm to better serve its Volusia County clients and offer a broader spectrum of legal services. Kistemaker's primary services are Condo/HOA law, business law, real estate law, and construction law and litigation.
The Ormond Beach office is a strategic continuation of the firm's growth in Volusia County, and is a direct result of their client's increasing legal needs beyond Flagler County. The firm's Volusia County office is located at 120 East Granada Blvd, Ormond Beach.
"Adding this talented group as leaders in the Volusia/Flagler market allows us to respond to our client's needs throughout the region," said Chiumento III. "Their wide range of legal expertise, as well as dedication to giving back to our community, allows us to grow our areas of practice and meet the changing needs of our clients and the community."
Ron Hertel has been attorney with the Firm since 2011. He is a graduate of Flagler Palm Coast High School.  He earned his bachelor of arts degree in education from the University of North Florida. In 2009, he obtained his juris doctorate from Florida International University after which he worked for a Miami-based law firm. Hertel returned to the community in 2011 and joined the Firm. He focuses his practice in civil litigation including business, real estate and construction litigation.  Hertel also leads the firm's immigration department.  Ron, his wife, and three children actively support our community by giving their time to Christmas With a Deputy and other organizations. In 2014, Ron was named to The Daytona Beach News-Journal's Volusia/Flagler Business Report's "40 Under 40" list, recognizing outstanding young professionals in Volusia and Flagler counties who were selected because of their achievements both professionally as well as their volunteer  efforts to make the community a better place to live and work.
In 2013, Andrew Grant joined the firm.  He and his family have lived in Ormond Beach for more than 13 years.  He obtained his juris doctorate from Northern Illinois University in 1998 and a master of laws degree in taxation from the University of Florida in 2001. Grant is also one of 214 board certified tax attorneys in the State of Florida. He focuses his practice in tax law, estate planning, elder law, business law, and physician practices. Grant is also very engaged and holds a leadership position with the local Volusia County Boy Scouts.
An Ormond Beach native, Erum Siddiqui Kistemaker has strong ties to the community and is dedicated to the service and growth of the area.
Erum Siddiqui Kistemaker, earned her bachelor of arts degree in 1997 with honors from the University of Florida, where she was a member of Florida Blue Key and Hall of Fame. She obtained her juris doctorate, cum laude, from the University of Miami School of Law (2000). Erum is an AV Rated attorney, the highest available rating, and has been recognized and selected as one of Florida's Super Lawyers (2014- 2018), Volusia/Flagler's Influential Women in Business (2012. 2015, and 2017), and Volusia/Flagler's Young Business Leader (2011). She is currently serving as the president of Volusia Flagler Association for Women Lawyers and was recognized by the Florida Association of Women Lawyers as a Leader in Law.  Kistemaker has a diverse and unique legal background. She is licensed to practice law in Florida, New York, England and Wales, and has worked in a variety of legal settings around the world. She has worked for some of the largest, leading and most respected international, national law firms (Carlton Fields); government agencies (previously an assistant state attorney); and as in-house counsel (associate general counsel for ICI Homes).  Most interestingly, she worked as a solicitor (lawyer) for one of United Kingdom's largest international law firms, Wragge & Co.  She brings more than 17 years of Condo/HOA/Business/Real Property law experience and remains involved with different sections within the Florida Bar and Florida Association for Women Lawyers at the state level.
###
Chiumento Dwyer Hertel Grant & Kistemaker., P.L., is a full-service law firm, serving Florida residents throughout Flagler and Volusia Counties since 1973. Its areas of practice include real estate, Condo/HOA personal injury, family law, estate planning, probate and trust administration, tax, elder law, immigration, litigation, criminal, bankruptcy and more. To reach them, you may visit them online at https://www.legalteamforlife.com or call (386) 753-3293.