Companies that use large numbers of agency or self-employed staff to be investigated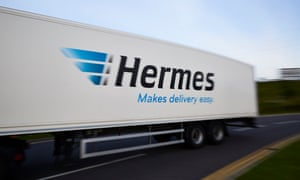 Ministers have ordered a crackdown on companies that use large numbers of self-employed or agency workers following an investigation by the Guardian into low pay at delivery company Hermes.
The financial secretary to the Treasury, Jane Ellison, announced that HM Revenue and Customs was launching a specialist unit to investigate companies who opt out of giving workers employment protections by using agency staff or calling them self-employed.
Ellison said the government was "committed to taking strong action where companies, to reduce their costs, force their staff down routes which deny them the employment rights and benefits they are entitled to".
The minister described the plans in a letter to Labour MP Frank Field, who wrote to Theresa May in the summer asking her to examine claims of false self-employment by couriers for the delivery company Hermes following the Guardian investigation.
The growing pressure comes as drivers for the taxi-app company Uber await an employment tribunal verdict on their claim that they should be classed as workers rather than self-employed and so should benefit from the minimum wage, sick pay, holiday pay and pensions.
The new HMRC unit will tackle misuse by companies of agency workers to avoid tax and other employment obligations. Agency workers at Sports Direct's warehouse in Derbyshire are to receive £1m in back pay after it emerged that they had been paid below the minimum wage.
It is understood that the new HMRC unit – called the employment status and intermediaries team – will proactively investigate companies that declare they use significant numbers of self-employed workers and will also act on intelligence and complaints about alleged abuses of the rules around self-employment.
The verdict and a shifting HMRC approach to the way companies use labour could have widespread ramifications for the so called "gig economy". Hermes uses 10,500 self-employed couriers, while Uber relies on 40,000 self-employed drivers in the UK. Takeaway delivery service Deliveroo is another fast growing gig-economy firmand uses 8,000 self-employed people.
Edward Troup, executive chairman of HMRC, said on Thursday that complaints of false self-employment by Hermes couriers, including several who said they were paid below the minimum wage, had been passed to HMRC compliance teams for detailed consideration.
He made clear that he could not comment on individual cases, but said: "Individuals cannot be opted out of employment rights and protections simply by calling them 'self employed'. We are committed to tackling false self-employment."
"Employment status in the UK is determined by the reality of the working relationship, not simply by the terms of any contract," Ellison added. "Individuals cannot be opted out of employment rights and protections simply by an engager calling them 'self-employed'."
Field, the Labour MP who chairs the House of Commons work and pensions select committee, said: "The government is girding its loins for a serious fightback against those companies trying to wriggle out of their obligation to pay the minimum wage by enforcing 'self-employment' on their workers. The prime minister has set companies the task of delivering a decent minimum for their workers, and companies now know they will be caught out if they jeopardise this effort."
Scores of Hermes couriers set out in testimonies to Field how their self-employment meant they received no paid holidays or sick pay – and in some cases were paid below the national living wage. They also said they risked losing work if they were unable to do their rounds because of ill-health or for other reasons. Twenty more also claimed they should be considered employees rather than self-employed.
A spokeswoman for Hermes said: "We are confident in the legality of our self-employed courier model and we will co-operate fully with any investigation, should there be one."
The delivery firm said that it has asked couriers who believe they are earning below the minimum wage to report that to managers, who will review parcel rates and increase them where appropriate. A spokeswoman said: "Three out of four of the pay-rate cases that were reviewed by the service complaints panel in its first month received a rate increase."
Hermes couriers welcomed the HMRC's examination of their case. "It is about time these big companies are looked into," said Cherie Nolan, a long-term Hermes courier from Manchester who quit in the summer. "They have got away with it for years. I hope they are going to realise that the little man is not always the skivvy, that we are people and we have rights."
"I feel like we are now being listened to," said one Hermes courier in Manchester, Marie, 42, who estimates she earns £3.50 per hour after expenses. "My customers are asking me if it's true I am earning less than the minimum wage and when I say 'Yes', they are disgusted."
The move was also welcomed by the general secretary of the Trades Union Congress, Frances O'Grady. "This investigation should be a warning shot to bad employers," she said. "Those who force staff into bogus self-employment must be held accountable."
Troup signalled the tax authority's new priorities in a letter to Field that was published on Thursday. "If we find that companies have misclassified individuals as self-employed, we will take all necessary steps to make sure they pay the appropriate tax, national insurance contributions, interest and penalties," he said.
Lawyers said that the HMRC's increased focus on the rights of low-paid self-employed and agency workers, and the impending Uber employment tribunal verdict would put many firms on alert.
"This perhaps reflects an increasing concern that the growing army of workers in the fast expanding 'gig economy' are being exploited," said Alex Bearman, partner at law firm Russell-Cooke. "Other firms with similar operating models will no doubt be keeping a close eye on the outcome in both cases.
"Even if the companies are found not to be at fault, this is unlikely to be the end of the matter given the recent announcement by Theresa May about a review of employment practices with a view to ensuring that the self-employed are properly protected."